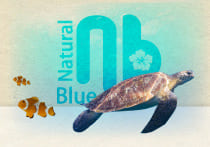 Discount Campaign Content
Package Tour(Blue Cave Snorkel&Diving)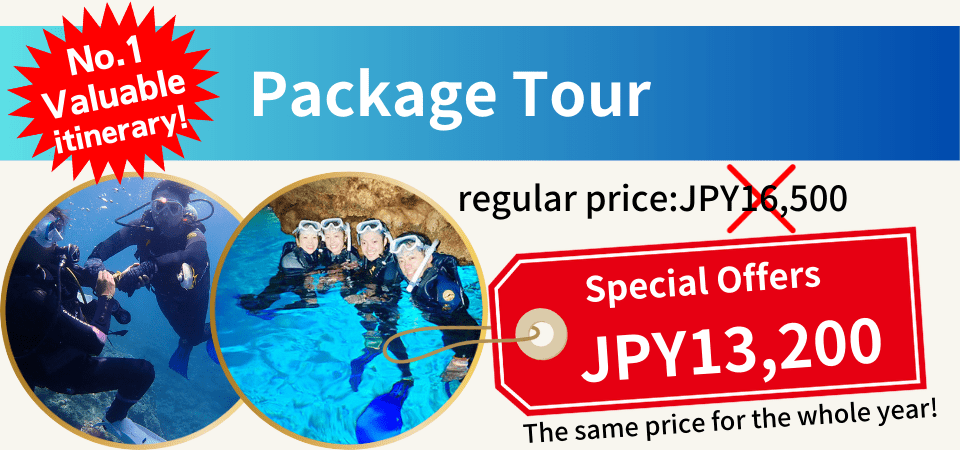 Content:The relaxed snorkeling will take you to a visit to the world famous Blue Cave. The diving package will be experienced outside the Blue Cave, where there are many clown fishes and tropical fishes swimming around. The tour is simple, and people who do not know how to swim can also enjoy easy-going diving and snorkeling.
Age limit:10 – 60 years old
Gathering time:
7:00 9:00 13:00 14:00 (March – October) Summer only
9:00 13:00 14:00 (November – February )
(The time frame from 11:00 is only provided when there is a crowd)
Blue Cave Experience Diving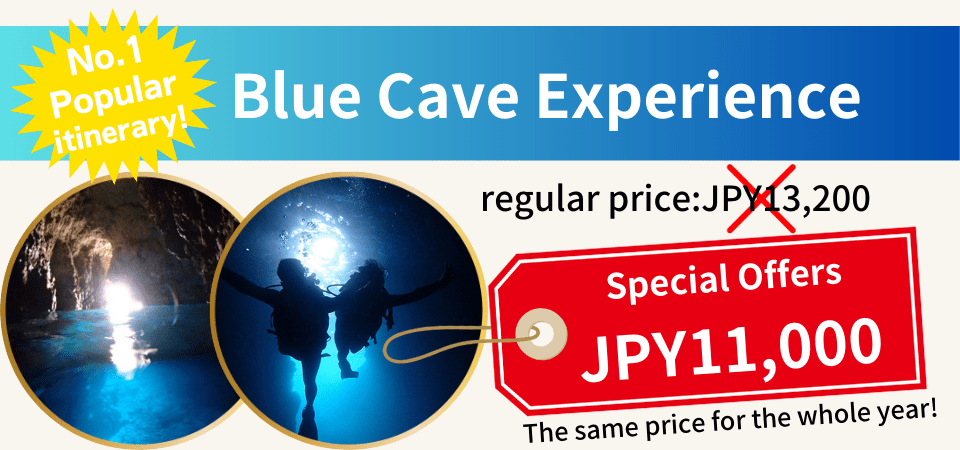 Content: Guide to dive in the world famous Blue Cave and enjoy the mysterious blue rays of light in the sea!
Age limit:10 – 60 years old
Gathering time:
7:00 8:00 9:00 10:00 11:00 13:00 14:00 15:00 16:00 (March – October) Summer only
9:00 10:00 11:00 13:00 14:00 15:00 (November to February)
For a small number of people only, in order to provide a more detailed guide.
People having their first try at diving or who do not know how to swim can enjoy the experience at ease with safety.
Besides a detailed explanation at each step, the Shop also gives detailed instruction for diving skills, thereby receiving good responses.

Blue Cave Snorkel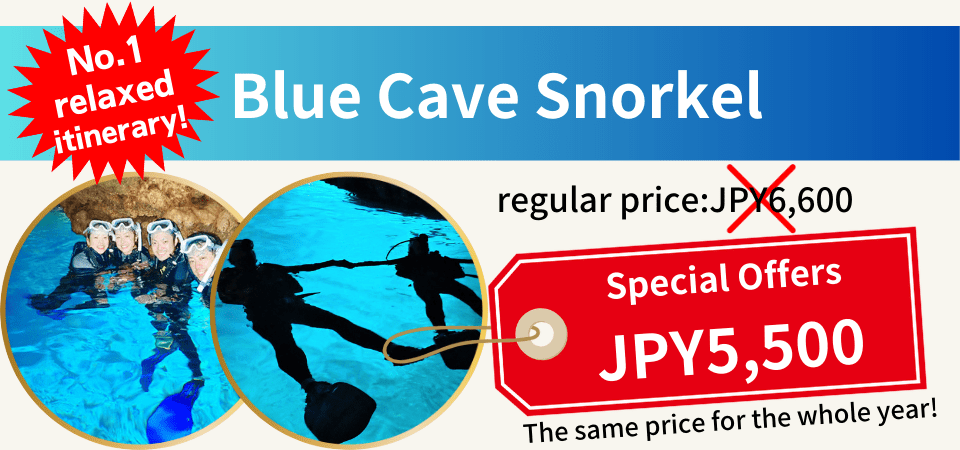 Content:Content: Visit the world famous Blue Cave by means of relaxed snorkeling. People who do not know how to swim can float on the water while enjoying the blue rays of light in such simple and carefree trip.
Age limit:5 – 65 years old
Gathering time:
7:00 8:00 9:00 10:00 11:00 13:00 14:00 15:00 16:00 (March – October) Summer only
9:00 10:00 11:00 13:00 14:00 15:00 (November to February)
In a general tour itinerary, one instructor leads 10 tourists. There is no need to care about other people; you can go snorkeling by yourself at leisure, and young children are also allowed. Now the Blue Cave Snorkeling and Scuba Diving experience tour package is also available, and tourists can fully enjoy the fun in Okinawa at an extremely reasonable price!
Together with the experienced instructors and trustworthy shop assistants, we are real marine experts!

2Set Experience Diving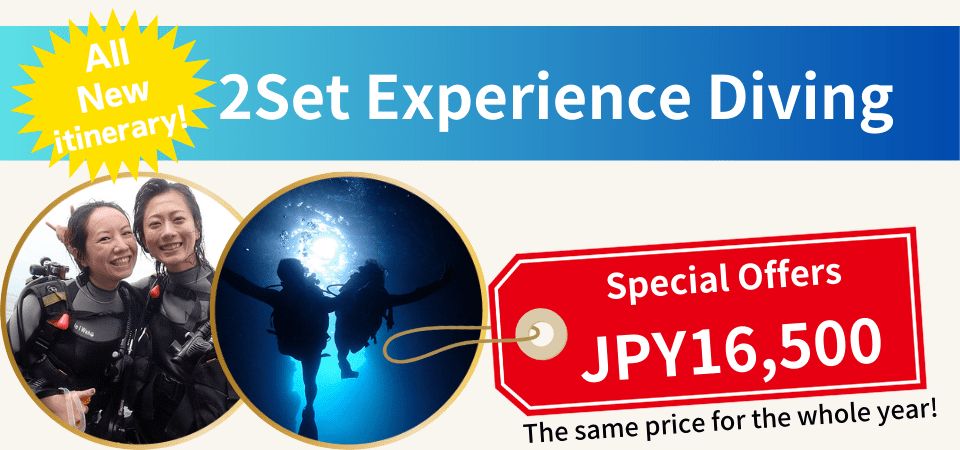 Content: Experience diving twice, in 2 different areas. (The Blue Cave area + coral reef clownfish area)
Age limit:10 – 60 years old
Gathering time:
7:00 9:00 13:00 14:00 (March – October) Summer only
9:00 13:00 14:00 (November – February )
Usually tourists can only experience diving once, but on this trip, tourists can experience diving twice! After calming down, one can really begin to enjoy diving the second time! For people who are nervous or uneasy, the first diving can be taken as an exercise. For people with experience in diving, of course, diving twice is also very good value for your money, as you can enjoy yourself in two different areas. Everyone will feel comfortable having a good time.

Fun Diving

Required time: 2 hours (1 oxygen tank), 4 hours (2 oxygen tanks)
Age limit: 12-60 years old (diving license required)
Appointment time: 7:00 8:00 13:00 (March – October) summer only (Please consult us for other appointment time)
8:00 9:00 13:00 (November – February )
FUN Diving from the Beach (2 oxygen tanks)
22,000 Japanese yen(before tax)
FUN Diving from the Boat (2 oxygen tanks)
26,400 Japanese yen(before tax)
Coming with Multiple Valuable Services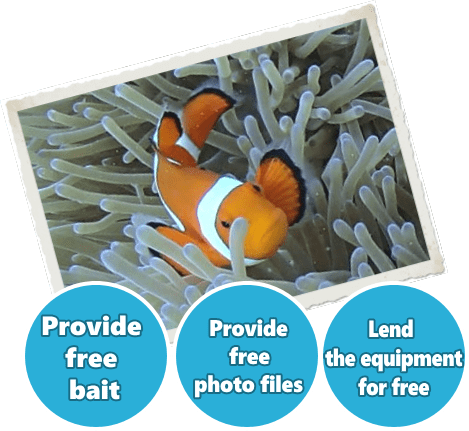 NATURAL BLUE Diving / Snorkeling Tour
Limited special offers at low prices during the launch time!
Coming with multiple valuable services worth recommending!

1. Provide free bait
2. Provide free photo files
3. Take clear and beautiful photos with professional cameras
4. Lend the equipment for free
5. No more charges for children
6. Provide English and Chinese translation services for free
・Blue Cave Expert Certified Shop
・Excellent Shop certified by Okinawa Prefecture
・Joining the diving union in the district and prefecture, member shop of the Outdoor Activity Society, and possessing national certification.
・All our working staff hold the national certified instructor qualification (Scuba Divers, PADI scuba instructors, CMAS instructors and PADI Divemaster) and all instructors are insured. There is also a diving instructor license especially for people with physical and mental disabilities.
About NATURAL BLUE
No. 1 in the number of foreign tourists!
No. 1 in foreign tourists' satisfaction!
The Shop owner used to sail around the world, and is one of the rare examiners among the Japanese scuba diving instructors (holding the scuba diving instructor certificate and the top qualification for being an examinant) and also has the practical teaching experience of a lecturer at the marine sports college. Therefore, all the working staff can provide professional, humorous, cheerful and friendly guidance.
It is a shop with excellent safety and trustworthiness.
The Shop has a slogan: "Becoming the Bridge between Human and Nature" and it is determined to make people all over the world love the ocean and bring happiness to people via the ocean!
"Travel is a once-in-a-life meeting chance." We think travel is created by people, and it is quite precious for people to meet each other. It is a shop which provides professional ideas for travel and ocean enjoyment.