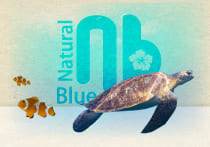 Okinawa Blue Cave Diving Experience Course DATA

■Diving Experience in Blue Cave, Okinawa
Diving Experience in Blue Cave. A diving trip specially designed for first-time divers. Can't swim? Not to worry! Beginner divers, basically anyone and everyone, are welcome. No diving license is required. Easy, relaxing and safe! A delightful trip for all!
Diving Experience in Blue Cave, Okinawa
Special Price:11,000JPY(before tax)
Original Price: 13,200JPY(before tax)
Required time: 2 hours
Age limit: 12-60 years old
(no diving license required)
Blue Cave Diving Experience Course Features

1. Equipment rental is completely free.
Equipment, such as diving suits, can be rented for free.
We provide equipment in good condition including diving suits.

2. Underwater photography is also free
Photos taken by underwater cameras will be provided as electronic files for free.
No need to bring your own camera!

3. Feeding the fish is completely free.
Feeding the fish is completely free.A wonderful service.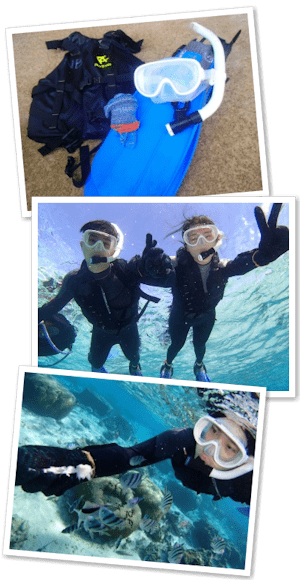 Blue Cave Diving Experience Detailed procedure

1. Meet at Cape Maeda Park
The meeting point is in the public Cape Maeda Park.
The Park is well equipped with facilities such as a large parking lot, changing rooms, shower rooms and lockers.
After arriving at the meeting point, the staff will meet you.
Please fill in application forms (insurance).
Change into diving suits.
After changing and getting ready, we will leave for the cave.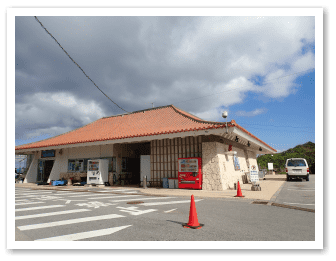 2. Start practicing
We will not take a boat; rather, we will swim to the cave.
The boat is shared with other businesses
and the anchoring time is limited so the time spent in the water will be shorter.
We can enjoy more time in the water by entering the water from the beach.
We will practice breathing techniques in the shallows before departing; please do not worry.
Feel the wonder of breathing underwater.
We will gradually move into deeper waters to put everyone's mind at ease.
The instructors will always be before your eyes to calm your nerves.
Instructors will guide each diver by holding their hands so even if you cannot swim there is nothing to fear.
With all the fishes in the sea, a wonderful world is unfolding in front of your eyes.
You can enjoy a slow stroll through the water until we reach the cave.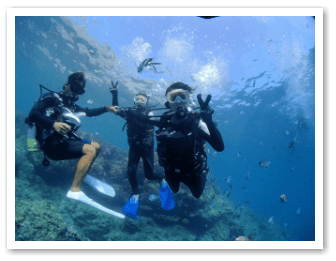 3. Mysterious Blue Cave!
The lights in the cave create a sense of mystery and grandeur too amazing to be described in words.
There are many fish species living only in the cave.
Countless schools of fish swarm around as you experience the excitement of fish feeding.
The good time comes to an end too quickly.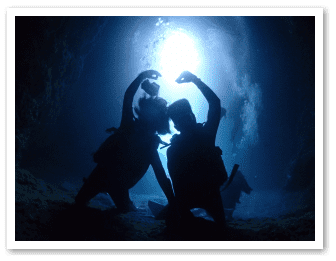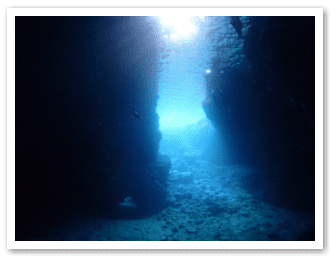 4.Diving experience completed!
The tour ends after you finish showering and changing.
Clean shower and changing rooms. 200yen/2 minutes
Hair dryers also available. 100yen/5 minutes
There are other famous tourist spots near the Park; you can dive into sightseeing directly afterwards. Waste no time by efficiently touring all the well-known attractions.