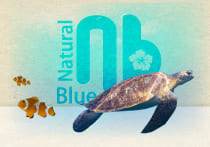 Okinawa tourist attractions around the Blue Cave
Besides snorkeling and scuba diving, there are a wide range of attractions in Okinawa. Below is a list of attractions near Cape Maeda and other areas in Okinawa.
<Around Cape Maeda Central area>
Zanpa Beach
The beach around Cape Maeda is suitable for water activities. Lifeguards are posted on the beach, enabling tourists to enjoy the waters at ease. There are also multiple beach activities such as banana boat ride and stand up paddle boarding (SUP).
Cape Zanpa Lighthouse
The "Cape Zanpa (Japanese pronunciation: Zanpamisaki)" is a 30m-tall cliff stretching for 2 km. It is the perfect place to overlook the Kerama Islands if the weather permits. Visitors can also climb to the top of the tallest lighthouse in Okinawa to enjoy the expansive views and take in the splendid sunset.
Mid-Sea Road
Enjoy the thrill of speeding across the gorgeous sea of Okinawa by driving on the Mid-Sea Road.
Zakimi Castle
Zakimi Castle is situated near Yomitan in central Okinawa Island. You can see Cape Zanpa, Onna Village coast and even Naha and Kerama in the distance. The unbeatable view creates the perfect atmosphere for visitors to relax.
Onna Station
With the local food of Onna Village (Japanese pronunciation: Onnason) as the center, all types of delicious food can be found here. It is the center of gourmet food in the central part of Okinawa Island, and provides the perfect place for a break during your drive!
American Village in Chatan-cho
This is one of the major tourist attractions around Camp Maeda. If shopping excites you, this is the place to go with its strong American air, where you can find all types of clothing and goods. The night sky is lit by the splendid Ferris wheel. It is an area full of entertainment, day and night. There are also restaurants, beaches and hot springs in the Village. Come and enjoy a leisurely time.
GALA Glass Workshop
You can observe the glass masters at work in "Ryukyu Glass Village", so give Ryukyu glass-making a try. Bring home a custom Ryukyu glass as a souvenir, adding memories of your vacation!
Yachimun Inn
One of the most popular specialties in Okinawa is "Yachimun" (pottery). Besides an Okinawan Shisa, visitors can also purchase a wide range of pottery pieces and souvenirs in many pottery shops of Yachimun Inn.
Ryukyu-Mura Village
A tourist attraction close to Cape Maeda. Ryukyu-Mura Village mainly consists of traditional architecture, creating a traditional Okinawan atmosphere. There are Shamisen classrooms, sata andagi (Okinawan doughnut) making, making of awamori wine labels and other enriching activities suitable for the entire family. There are also restaurants in the village.
MURASAKI Village
Enjoy and experience Okinawan cultural and traditional activities as well as a large bath house.
<Southern area>
Shurijo Castle
Shurijo Castle is one of the famous tourist attractions in Okinawa, where visitors can experience the traditional culture of the Ryukyu Kingdom. Taste snacks and Sanpin cha (Jasmine tea). In addition, there are restaurants and exhibition rooms as well as other facilities displaying and introducing the cultural treasures.
Public markets
Colorful, vibrant, fresh fish! Full of tropical charm. There are also pork chop noodles (Soki soba), Okinawan vegetables and more. The Heiwadori and Makishi public markets play the important role of Naha City's kitchen and are also recommendable attractions for tourists! After buying the fresh seafood, head to the restaurants and they will cook the seafood for you.
Okinawa Outlet Mall ASHIBINAA
ASHIBINAA is the southernmost outlet mall in Japan. Visitors can reach the mall by taking the monorail or a bus from the airport. It is the perfect place to spend your time before leaving Okinawa.
<Northern area>
Manzamo (a.k.a. Manza Cape)
Located in Onna Village on the west coast of the Island is the scenic "Manzamo", the premier vacation area in Okinawa. "Manzamo" means a plain that can accommodate ten thousand people. Known for its rock shaped like an elephant trunk, it is also a popular spot to enjoy the sunset.
Kouri Bridge
"Kouri Bridge" was constructed in 2005 to connect Okinawa Island with Kouri Island. Visitors can now easily visit Kouri Island, which previously was only accessible by ferry. This majestic 2 km-long bridge stretches over the blue ocean and is loved dearly by all visitors in Okinawa.
Okinawa Churaumi Aquarium
This beautiful aquarium is a must-visit in Okinawa, where you can admire whale sharks and giant oceanic manta rays in the world's largest tanks.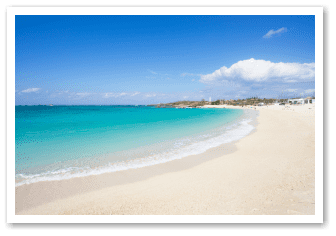 Zanpa Beach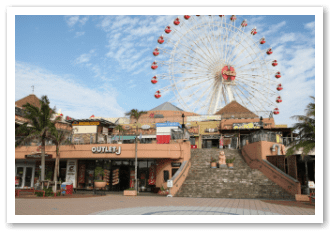 American Village in Chatan-cho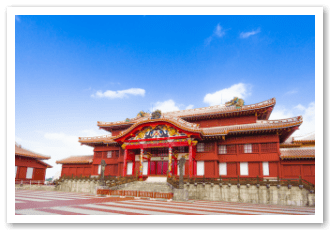 Shurijo Castle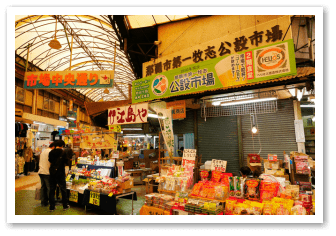 Public markets

Manzamo (a.k.a. Manza Cape)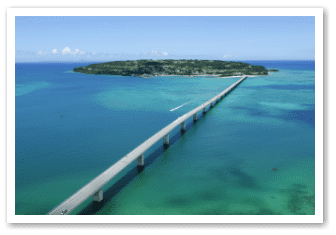 Kouri Bridge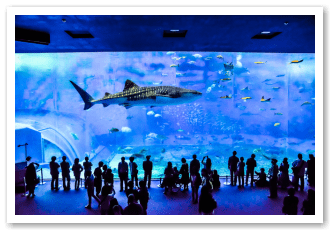 Okinawa Churaumi Aquarium