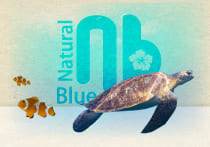 FAQ
More about Blue Cave

Blue Cave is located near MAEDA MISAKI in Onna Village, Okinawa Prefecture; the surrounding area is designated as a national park, boasting a rich natural landscape.
The Blue Cave is a masterpiece of nature that is formed by corals, a kind of natural marine organism. As the cave is like a horizontal tunnel connected and formed by seawater, you can swim all the way to the interior.
The body and surface of the water are rendered a shade of azure blue, hence the name "Blue Cave". In recent years, owing to widespread promotion as a tourist attraction, Blue Cave has become the top scenic spot for diving and snorkeling in Japan. Every year, tourists are attracted in droves to enjoy the fun of water sports here.
The azure blue seawater and the cave that reflects its splendor have created a dreamy fantasy world.
The dome-shaped entrance is much like a bright blue natural swimming pool, well worth a look. The Blue Cave is around 60m long and measures approximately 10m high from the water surface to the cave top, with a 5m water depth.

Why does the Blue Cave appear blue to us?

Why indeed? It is that exact feature that makes it a joy to dive in the Blue Cave. The Blue Cave displays various forms of blue light throughout the day; every blue light display is different and varies according to the time of day. These gorgeous blue light displays await your arrival!

Is it difficult to walk on the cliff of the Blue Cave?

No, not at all! Even children can walk on it easily. This route to the cave is like a little fun-filled adventure. You will see many creatures along the way, so that even the act of walking is interesting. You can interact with creatures and appreciate the dynamic landscape that is only made available by means of cave trekking. However, non-swimmers may have a less easy time as staying too long in the water may cause seasickness.

What are the highlights of the water in the Blue Cave?

There are fishes galore here! As there are also nocturnal fish species, you may be able to witness the rare phenomenon of fishes sleeping in the sea.
You can experience the spirit of discovery in the Blue Cave.
There are many different landforms inside the cave, such as coral reef, rocky coast, sandy shores, and so on, so you can catch sight of a diversity of creatures.
A wide variety of big and small fishes inhabit here.
Welcome to Natural Blue! Come enjoy our Blue Cave trip!

Which is better, diving from the boat or diving from the beach?

◎Advantages of Blue Cave diving and snorkeling trips from the beach
・The Blue Cave is a famous tourist attraction, so it is easy to find the assembly venue.
・The facility is very spacious and there is ample space to conduct practice and lectures.
・Customers from other dive shops will also take the boats, so the boats will be quite crowded. During the peak seasons, the boats are packed with tourists; this makes it impossible to enjoy the trip leisurely.
・The boat departure times are fixed, so taking the boat will sometimes mean a rushed trip. .
・You can enjoy your trip leisurely at your own pace if you choose diving from the beach.
・You can stay in the water for a longer time if you dive from the beach.
・Parking lot, changing room and shower facilities are available.
・Diving from the beach will not cause seasickness.
・You can go into the water immediately after putting on the diving suit.
・Besides the sea, you can also visit the caves on land.

What items do we need to prepare?

Please prepare swimsuits, towels, a change of clothes and beach footwear.

Are there any other costs aside from the diving and snorkeling fees?

The travel cost and rental fees for diving/ snorkeling equipment are already included in the stated fees. (Additional fees for using the parking lot, changing room, shower room, hair dryer and locker at MAEDA MISAKI are payable; 100 Japanese yen per hour for the parking lot, 200 Japanese yen for the shower room and 100 Japanese yen for the locker. Please rest assured that all these fees are charged reasonably.).

Are there age restrictions?

Age restrictions are as follows:
Snorkeling 6-65 years old
Scuba diving 12-60 years old
Minor (under 20 years old) customers must have permission from their guardians. If the guardian accompanies the minor customer, s/he can sign the agreement onsite. If the guardian will not be present, please contact us in advance. After having the guardian sign the agreement, please hand it to the staff in charge on the day.
In addition, customers over 50 must fill in the medical history form below to verify their health conditions. Please answer all questions concerning your health with "Yes" or "No". If you have any one of the health problems listed, please inform us beforehand. You may need a doctor's permission for participating any of the courses.

What if you have any discomfort or pains?

People with respiratory, circulation, cardiovascular, ear/nose disorders, etc., shall consult their physician before participating in diving activities. When participating in diving courses, customers may need to present a doctor's diagnosis certificate. Furthermore, pregnant women are not allowed to participate in scuba diving or snorkeling activities; we apologize for any inconvenience. If you have any discomfort or pains on the day, you may not be able to participate for safety reason. Please call us in advance.

Can menstruating women participate in diving activities?

During menstruation, if you use tampons or other sanitary products, you will be able to dive. Some people may worry the blood will attract sharks but there is nothing to worry about on our tours.
However, diving during pregnancy may affect the baby, so pregnant women should avoid scuba diving or snorkeling.

Can I dive on the day of flying?

After diving, the diver should not fly on the same day. The nitrogen buildup in the body due to the difference in pressure during diving will form air bubbles in the body, which will lead to various types of symptoms and is extremely dangerous. Please rest fully on land after diving to allow the accumulated nitrogen to be naturally released from the body.
On the other hand, diving after flying is not a problem. Those who plan to dive may do so from the day of arrival to the day before departure.

If rain is forecast, will this affect diving or snorkeling?

The rain will not affect the tour. Since participants will be wet anyway, the rain will not be a problem. Tours may end abruptly due to wind and wave conditions but will not end due to the rain. If wind conditions allow, divers will be able to enjoy the tours safely.
Participants will be able to see the beautiful blue light even when it rains.

Are there any alternative plans if Blue Cave activities are suspended?

If the Blue Cave tours are cancelled due to swells, the diving or snorkeling spot will be changed. Participants will still be able to enjoy clear oceans, corals and colorful tropical fishes at the other spots. Because this is a nature tour, we hope everyone can enjoy all the natural beauty of the moment rather than dwelling on the views of the Blue Cave. We hope everyone can enjoy every moment in nature on Okinawa. Because of this, we may not be able to accommodate those who insist on visiting the Blue Cave only. Thank you for your understanding.

When will the notice be given if tours are suspended?

Suspension notices will be issued at least one day before the scheduled time of the tours. Please understand that wind and sea conditions change momentarily, so it is very difficult to make timely judgments beforehand. We will contact you immediately if tours are cancelled for certain.

Does the price include tax?

The prices listed are before tax. An additional 8% tax will be added separately.

Can I pay with a credit card?

We are sorry, but we only accept payment in cash (Yen). We do not accept credit cards.

Will hotel or airport pickup service be provided?

We are sorry. We do not provide a pickup service. Please take a taxi, buses or other forms of transportation.

Is there a cancellation fee?

Yes. We have a cancellation policy. Once bookings are confirmed, there will be a 100% cancellation fee. Because these are nature tours, plan changes might occur suddenly. If conditions near the Blue Cave are bad, the diving or snorkeling spot may change. Thank you for your understanding. When booking, those who wish to see Blue Cave only will be denied. We hope everyone can enjoy the fun of these nature tours.

I heard the underwater photography is free. How do I get the pictures?

The photos will be sent through LINE or Dropbox within 2 to 3 days.
There is no limit to the number of the pictures, which will depend on tour itinerary, group size and sea conditions; usually 50 or more photos will be taken. The photos are provided as electronic files for free; therefore, we do not accept complaints about photo quality or quantity. Please bring your own waterproof camera if you wish to take your own photos.

Can I take the diving or snorkeling course without any companion?

Yes, but you will have to join other participants.

Can I dive or snorkel if I cannot swim?

Those who cannot swim or have no prior experience are still welcome.
During the courses, you will have to wear or hold diving suits, life vests or even floats to ensure your safety.
Please hold on to the large floats when snorkeling, which will be pulled by the instructors. Just let your body float naturally. Instructors will be present at every dive. If there are any problems, simply gesture to the instructor and they will pull you along during the tour; you only need to breathe and enjoy.

Is it a problem if this is my first diving or snorkeling?

No, it is not a problem. We offer beginner courses and will observe each participant carefully. You will have nothing to worry about.。

Is it better to enter the water from a boat or from the beach?

Entering the water from a boat eliminates the need to carry your own equipment. However, you will need to share diving boats with participants from other diving shops. As the boat must sail and anchor on the water that is sufficiently deep, the water depth may be frightening for beginners.
Furthermore, the tour length is shorter due to the regulated anchoring time.
When entering the water from the beach, participants must carry their own equipment into the water. On the other hand, participants can wade into the shallow waters, which is recommended for beginners. Additionally, because there is no time limit, participants can enjoy the waters for longer periods of time. Because it takes longer to reach the cave, participants can enjoy a leisurely tour and spend more time diving or snorkeling in the water. Natural Blue tours basically enter the water from the beach. In case of poor sea conditions, tours may enter the water from a boat instead.

How deep does the diving experience course go?

We will dive to a depth between 2 m to 12 m, depending on the customer's request. The deepest point in the Blue cave is 6 m deep.

Can I snorkel or dive in winter?

Okinawa is perfect for ocean activities during any season. Furthermore, we are equipped with winter diving suits and will provide hot tea to warm the divers. Everything will be taken care of.

How do we get to the Blue Cave?

The Blue Cave is located along the Cape Maeda coast. Slowly descend the natural stairway of the cape and enjoy trekking through the cave before entering the water. We will then proceed to the Blue Cave while diving or snorkeling. The Blue Cave is around 100 m from the entry point into the water.

How do we get to the Blue Cave?

Please refer to the methods of getting to the Blue Cave.

Do I have to wear swimwear?

Please bring swimwear. We will wear our swimwear under the diving suit. If you do not have swimwear, underwear, T-shirts or shorts can be worn under the diving suit.

Can I rent the equipment without joining a tour?

We do not provide equipment rentals. Please join one of our tours.

Can I bring my own camera?

We do not recommend bringing your own camera because of frequent occurrence of loss or damage to customers' cameras. We use professional spec. cameras to take pictures underwater and provide free photo files for the participants. Although you can bring your own camera, we do not take any responsibility for its safekeeping (not included in insurance).

Can I wear contact lenses in the water due to poor vision?

You can wear contact lenses. Our instructors also wear them. Participants with glasses can rent goggles with prescriptions for an additional 500 Yen.

Are there any facilities for customers who are not diving or snorkeling?

Yes, Cape Maeda has indoor and outdoor rest areas, a small dining area, hiking trails and a white sand beach.
Experience nature through the Blue Cave tour
The Blue Cave is the perfect place to experience nature. The point of a nature tour is to immerse yourself in nature. If the Blue Cave tour is cancelled due to poor ocean conditions or heavy swells around the Blue Cave, the diving or snorkeling spot will be changed. These other spots also provide clear water, coral reefs and colorful tropical fishes. We are not only selling "the Blue Cave tours". This is a nature tour that provides an opportunity to enjoy every moment in nature and should not be limited to the Blue Cave. Please understand the meaning of these nature tours before joining.
We may not be able to accommodate those who insist on visiting the Blue Cave only.
Heavy swells are a natural phenomenon and so is the poor visibility of the sea water. Although it is regrettable when participants cannot enter the water due to swells, the swells churn the sea water and lower the water temperature to protect the coral. The swells also transport food to the sea creatures in the waters. Underwater visibility is affected by large amounts of plankton, which is a food source for the creatures in the waters. These conditions are essential for maintaining the oceans' rich resources. Nature tours are not consumer goods; if people can view nature from the perspectives of other animals and not only through the eyes of a human, they can discover a multitude of amazing experiences. Changing your point of view will also affect your outlook, which will possibly change your attitude towards daily life, way of living and every little thing.
Unique Features of Natural Blue
You will receive friendly guidance from experienced and reliable instructors who are certified and covered under diving liability insurance.
Local Japanese instructors can communicate with you in English or Chinese.
We will use ingenious ways to convey the Japanese culture and unique features through the sea.
We are also capable of receiving tourists in groups.
Safe Dive Shop
We have experienced instructors and reliable working staff.
"A travel experience is once in a lifetime." We believe that a happy trip is the result of everyone's collective contribution.
Meetings between people are a precious experience.
Our shop is specialized in the areas of travel and the sea.
Our boss has the experience of having sailed around the world, and is one of the rare few Japanese diving instructors who is also an instructor examiner (with the top level qualification to evaluate diving instructors and to act as an examiner). He also has practical teaching experience as a marine sports college lecturer. Therefore, all of our staff can take on the roles of diving instructors to conduct professional and interesting courses.
We are a professional dive shop that promises a high level of safety and reliability.
Our working staff comprises outstanding individuals who are certified. Our instructors are all covered under the diving liability insurance.
Our instructors also hold the diving instructor license to teach the disabled.
Thus, non-swimmers can also rest assured. It is absolutely safe to dive here.
You are welcome to visit our dive shop while touring Okinawa. We also accept tourists who come in groups.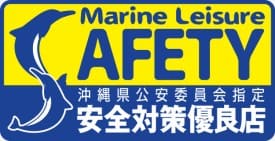 Shop of Good Safety Practice
Our shop has been selected as the Shop of Good Safety Practice, as designated by the Okinawa Prefectural Public Safety Commission.
[Notices]
*Some dive shops employ many foreign staff to facilitate language communication and allow these staff members to accompany tourists on diving trips, despite the fact that they are not certified. Some shops do not have enough manpower but persist on conducting trips by having 1 instructor overseeing more than 10 tourists. Please consider carefully when choosing dive shops.
Natural Blue possesses the Japanese Government Certified Divers license, EFR license and lifeguard license.
Snorkeling is conducted in small groups, with one snorkeling instructor taking on a maximum of 8 tourists.
Diving is conducted in small groups, with one diving instructor taking on a maximum of 3 tourists.
Some dive shops force tourists into taking the dive during training, leading to a high dropout rate. Natural Blue, however, explains the entire procedure in detail and guides tourists into the water in a prudent and kind manner, an approach that has won the affirmation and recognition of our customers. Hence, our dropout rate is extremely low. Everyone can enjoy the fun of diving here.
Natural Blue is in long-term recruitment of dive instructors.